The Seeed Studio recently launched Wio-WM1110, an appealing new product, that revolutionizes IoT development. Combining Semtech LR1110 and Nordic nRF52840, this module delivers exceptional capabilities.
The Wio-WM1110 module incorporates Semtech's LoRa technology, enabling long-range wireless communication. It provides GNSS tracking, Wi-Fi, and Bluetooth services, all while minimizing complexity and cost through its compact design. Let us see what more does it offer.
What is Wio-WM1110?
The Wio-WM1110 module, powered by high-performance Semtech LR1110 and Nordic nRF52840, empowers developers with low-power, long-range LoRaWAN® communication. It covers the global frequency band, making it highly versatile and adaptable to various low-power wide-area IoT scenarios such as smart agriculture, wireless meter reading, and smart city applications.
With embedded GNSS (Global Navigation Satellite System) tracking, the Wio-WM1110 module ensures reliable outdoor positioning. Furthermore, its Wi-Fi passive scanning and Bluetooth mesh capabilities make it suitable for indoor positioning systems (IPS), providing comprehensive location coverage while reducing complexity and cost. It serves as the perfect development platform for asset tracking, inventory management, asset loss prevention, theft prevention, and more. Discover the limitless possibilities of the LoRa Edge™ LR1110 solution.

The Wio-WM1110 module finds perfect application in the SenseCAP S2120 8-in-1 LoRaWAN Weather Sensor, which has been widely adopted in smart agriculture and urban weather monitoring, among other fields. This weather sensor collects essential data including air temperature, humidity, wind speed/direction, rainfall intensity, light intensity, UV index, and barometric pressure. It uploads this valuable information via LoRaWAN®, providing hyperlocal weather updates at your fingertips.
FREE Seeed Fusion PCBA Services!
Get one step closer to the amazing possibilities of the Wio-WM1110 by filling out the form and submitting your project ideas. Simply click here to participate and share your innovative concepts with SeeedStudio.
As part of this exclusive offer, each person can receive two PCBA boards 100% FREE for one design. This includes PCB fabrication, the cost of parts, assembly, and shipping. To qualify, your design must incorporate the Wio-WM1110 module.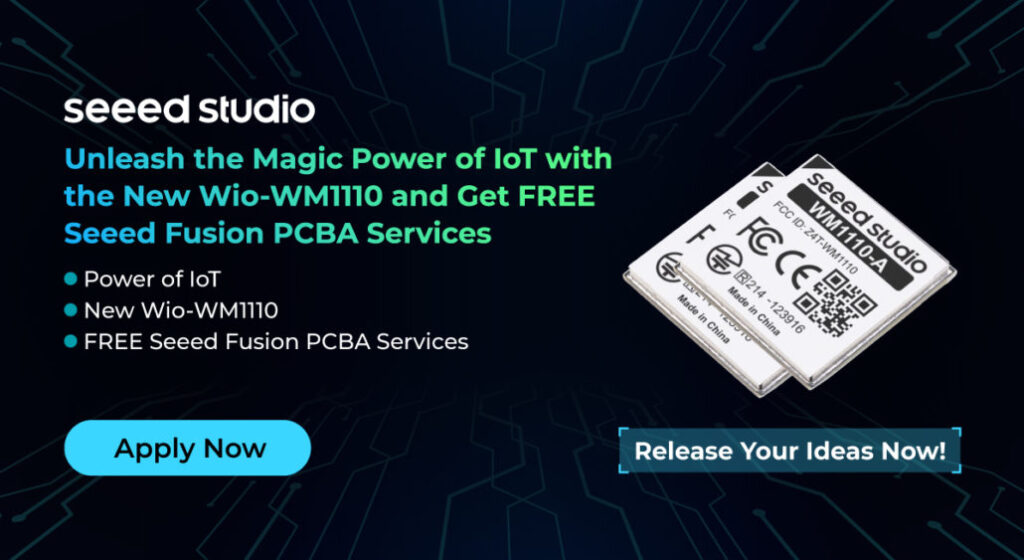 When preparing your Bill of Materials (BOM) file, make sure to add the Seeed SKU 114992865 or the part number Wio-WM1110. Add the order to your cart, and then contact the customer support team at fusion@seeed.io to obtain the corresponding cash coupon for settlement.
By participating in this event, you agree to review your experience with SeeedStudio and grant permission for them to share it, along with your design, on their social media platforms such as Facebook, Twitter, and blog. Rest assured, your design does not need to be open-sourced, and your production files will not be shared with the public unless you explicitly desire it. Seeed Studio's goal is to inspire more users to embrace the capabilities of IoT and LoRaWAN® based on your experiences.
Don't miss out on this opportunity to bring your Wio-WM1110 project ideas to life. Take action now, fill out the form, and submit your ideas. Let's make the IoT world even more exciting together!